Touching words from our awesome client. Thank you so much for trusting me and our team to get the job done.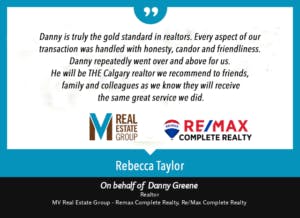 Tony Kereluke
"Danny was an excellent agent who is honest and on time all the time. Danny did a great job in closing the deal of my property in a tough market within 60 days. I recommend him anytime and provided great data in my market of Calgary and knew the city very well when it comes to real estate. Too many realtors in Calgary don't provide good quality data and good insight like Danny Greene does. This type of service and knowledge is hard to come by in the city."
– "Thanks for the stellar review Tony, and for giving us the opportunity to help you with your real estate needs. Your trust and confidence in our services are what inspire us to go over and beyond expectations."
Kerry Holliday
"Danny was so well prepared and knowledgeable. He fully accommodated our schedule, prioritized our needs, and found us our perfect home in a great community."
– "When you're out looking for the right home to fit your lifestyle, you need more than just a gut feel. The needs of our clients come first, and we did just that for Kerry and Devon. Thank you for the thumbs up, Kerry! We hope you're enjoying your new home!"
Rhys, Calgary 
"Danny makes himself available as a person, and establishes a personal rapport making it all a stress-free experience based on trust. He was quick to answer questions at all hours, and always made himself available for viewings and offered great advice on properties and areas. The best part of my experience was the patience and understanding that I was given to ensure I was able to not rush my purchase and make sure I made the right decision. I look forward to using Danny again for my future needs and would highly recommend Danny to anyone looking for a top-class realtor."
– "A big thank you to my awesome client for this great review. Your trust in our team and our services mean the world to us."
Vienna Sturby
"Thank you Danny, I throughly enjoyed working with you in finding my new home.
I will definitely recommend you to any of my friends and family members.
Have a great summer."
– "Thank you to my awesome client for this nice testimonial. It was a privilege for our team to help you through the process!"
Breean H. – Buyer
"As a first time home buyer, I was really nervous when I first started looking at properties. Danny Greene was so incredibly helpful and patient throughout the entire process, and my experience buying my condo couldn't have been better! Very knowledgeable about condos and what to expect when purchasing this type of property. I would recommend Danny to anyone looking for guidance with buying a property, and will definitely seek him out for my next purchase!"
Jim M. – Buyer
"I would highly recommend Danny Greene (and I have) to anyone that is looking to secure services pertaining to real estate. We found him to be trustworthy, respectful, knowledgeable and always available. His sincerity and honesty put us at ease for such an important transaction".
Chris and Tasha R. – Buyers
"Danny was a phenomenal agent for my family as we worked through a real estate purchase. Danny was professional in his dealings with us, and incredibly knowledgeable about the purchase/sale process. He guided us quickly, and represented our interests well. He was supportive and diligent with his actions. I would strongly encourage anyone with real estate purchase or sale needs to be in touch with Danny and the MV Real Estate Group."
"Matt, right from my first phone call was prompt and courteous. Within minutes of speaking to him he delivered a number of listings to help start my search for a new home. The turn around from my first phone call to the first home I went to look at was amazingly fast. When I met with Matt we discussed what I was looking for in a home and he presented me with all of the information I would need to move forward in my search and eventual purchase. Through the entire purchase process Matt and his team were there to answer any questions I had and guided me though the entire process, much of which probably would have been very overwhelming for me as a first time buyer. Based on the service I have experienced and the hard work I have seen Matt put in on my behalf, I will definitely want to use his services in the future. Thanks Matt!"
George & Joy H. – Buyer/Seller
"Matt did a phenomenal job selling our house. It sold in just two days on the market! In fact the first showing was even before it was on the market. That showed us he was already working hard to sell our house. From start to finish he made selling and buying easy. He answered all our questions, addressed our concerns and made us feel comfortable throughout the whole process! He is the only one we will ever deal with."
"I previously had a poor real estate experience with someone else, so I was a little nervous going into the process another time. But, Matt was professional, patient and answered all of my questions! He really made the process easy and enjoyable and because of him I am now happily living in my new home! I recommend Matt to anyone looking for the right Realtor!"
Chuck & Mel B. – Buyer/Seller
"Chuck & Mel writing to give you a big thank you! You were an amazing realtor. What made you so was not just your level of professionalism or ability to seek out properties we loved, but mostly it was how at ease you made Chuck and I feel throughout this whole process. We were so nervous when we first went to meet you – as first time buyers we had no idea what to expect, but you instantly made us feel comfortable and ready to embrace the very fast journey. Even though we were looking at starter homes you always made us feel we were looking at mansions. You made us feel as if we were youronly clients – although we knew you were insanely busy – which made us feel very special and made a potentially stressful process surprisingly enjoyable.
Also, thank you for all the goodies along the way such as the flowers at work (people thought they were from Chuck haha!), the moving box (we used all of it, even the box it came in), the gift certificates, wine (we enjoyed that one before the move – couldn' wait) and of course who could forget that AMAZING coffee maker! A thousand thank-yous isn't enough, but we hope it will do."
"I bought a new home through Matt Verity last year, and the overall experience with him was awesome! He listened to what type of home I was wanting, and showed me homes that were on my wish list, without breaking the bank. He was patient, kind, professional, knowledgeable, and I never felt pressured into buying something. Once I found the home I fell in love with, his team made the paperwork process effortless and handled everything from start to finish. Before I knew it, it was moving day! I would highly recommend Matt and his team to anyone purchasing a new home – I will definitely be using him for all my other Real Estate needs."
Aaron – Seller
"Danny was involved in my first real estate sale in Saskatchewan and he will be involved in all of my transactions moving forward. Danny did extremely well in marketing and selling our home in a difficult market with an over-supply in our area. I have recommended Danny in the past and will continue to do so in the future."